Plumb is excited to announce that Sage 300 Construction & Real Estate is now available to purchase with subscription pricing.
Sage 300 Construction and Real Estate (Sage Timberline) is the most widely used accounting and project management software in the construction sector. Until recently, you could only purchase Sage 300 CRE as a complete package to be installed and owned outright.  By fully purchasing the software, you had to pay for it upfront and install on-premise, which could be a large investment for some firms.
Now, you can buy Sage 300 Construction software as a subscription package.  This means you can own Sage CRE and pay for it on a monthly basis by user.  It also allows for companies to only buy the modules they need.  All subscription packages include the Sage Business Care: Subscription Gold Plan, so if you need assistance and Sage support along the way, you'll be covered.
What is included in the Sage 300 Construction Subscription Package?
With each subscription package, all users will receive core modules within Sage 300 Construction & Real Estate.
Accounts Payable:
Track invoices
Print checks
Vendor tracking
Track lien waivers
Reconcile General Ledger to AP sub-ledgers
Accounts Receivable:
Customized reports
Cash receipt entries
Real-time customer tracking
Invoice entries
Receivable adjustment
General Ledger:
Reporting
Budgeting
Financial statements
Account tracking
Inquiry
Entry and processing
Information Assistant:
Issue tracking
Reports and inquiries
How much does Sage 300 Construction Software Cost?
These prices are based in US dollars for both US and Canadian modules of the software.  In order to purchase add-on modules, it requires a core package.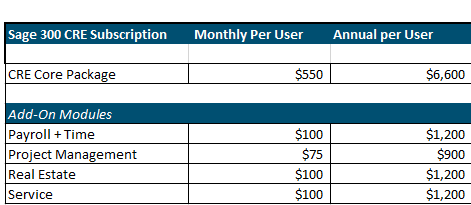 Add-On Modules Include:
Payroll: Payroll and Remote Time Entry
Project Management
Real Estate: Property Management and Advanced Retail
Service: Service Inventory, Service Management, Service Preventative Maintenance & Agreements and Service Purchasing
For a limited time >> Save 20% off subscription pricing for Sage 300 Construction <<
Pricing drops to $440 per user for Core Package or $5,280 per year for one license. 
For more information on subscription pricing, implementation and consultation services:
Contract Details:
Minimum 30 days notice is required for a reduction in users or to cancel the subscription.
All orders are non-refundable and you cannot cancel. You many only terminate your use of the product in accordance with the applicable Sage end user license agreement or subscription agreement. Requires ACH/EFT or credit card.
Frequently Asked Questions for Sage 300 Construction Subscription Pricing:
Q: Are there plans to offer subscriptions for other products like MyAssistant, Office Connector, and Sage Paperless?
A: Not yet, but Sage is evaluating the potential for a subscription approach to these other products.
Q: Why is [insert module here] included in [insert subscription package here]
A: The customer doesn't need to use everything in the bundle. The core and add on subscription price points are set up to offer value to the customer in most common usage scenarios.
Q: What if the customer needs 5 uses of [insert module here], do they need to purchase 5 licenses of the core package?
A: Yes, licensing is bundled. There is no option for additional licensing by module. For example, 5 uses of Job Cost will require 5 core bundles.
Q: Is there an additional charge for implementation.
A: Yes, implementation pricing is no different from a concurrent license purchase.
Q: If a customer misses a monthly/annual payment, is the software locked?
A: there is a 60-day grace period. After this grace period the customer will no longer be able to access the product.
Q: How will add-ons be handled if added part way through the subscription?
A: New subscriptions added mid-term will be prorated to reflect the remainder of the billing period.
Q: Do customers also need to buy a Gold or Silver service plan?
A: Subscriptions include Gold level support.
Q: What if the customer wants to switch to from subscription to perpetual?
A: The customer can cancel their subscription and purchase perpetual licenses at any time.
Q: How early do they need to notify us of cancellation?
A: The customer should notify us of cancellation before their next billing period begins.
Q: Can the customer reduce uses at any time during their subscription?
A: Yes, however, credit will not be issued for unused subscription purchases and the subscription decrease will take effect on the next billing cycle.
Q: How long will they have access to data after cancellation?
A: Once a cancellation is submitted the licenses are deactivated and the customer will no longer have access.